💬 "Ask Me Anything" with Dr. Krupa Playforth, MD, FAAP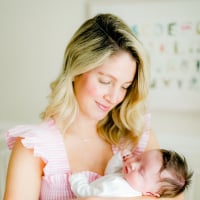 Ask Dr. Krupa Playforth anything - from preparing for baby, questions to ask when selecting your pediatrician, nutritional guidance & introducing solids, teething, gassy baby tips, milestones & more! 
But keep in mind that all answers are general guidelines and not intended to be a substitute for professional medical advice, diagnosis, or treatment. Always seek the advice of your child's physician with any questions you may have regarding a medical condition. Never disregard professional medical advice because of something discussed here.
Dr. Playforth is a board-certified pediatrician and mother. She has special interests in healthcare education for parents and in infant/child nutrition, and she is passionate about approaching parenting with nuance. Her goal is to help parents develop the confidence to trust their intuitions within an evidence-based framework across a range of parenting topics. Dr. Playforth is on the Healthcare Advisory board for Babylist, has contributed to Huffington Post, CNN, NBC, KevinMD, and Insider Magazine, and is featured as a Top Doc for both Northern VA Magazine and the Washingtonian.
In today's connected, internet-dependent world, it is easy to become overwhelmed by information overload. You can use ThePediatricianMom to find some peace, some answers, and hopefully some confidence to trust your parenting style as she discusses the most common questions pediatricians receive from parents. She can be reached on social media (@thepediatricianmom) or on her website at www.thepediatricianmom.com.
** Bookmark this thread and receive a notification when the AMA begins.**
Click the bookmark icon on the right-hand side of the discussion.
Tagged:
Comments
This thread has been closed. We hope you'll join the conversation by posting to an open thread or starting a new one.