💬 "Ask Me Anything" about Getting Your Baby to Sleep Through the Night with Dr. Natalie Barnett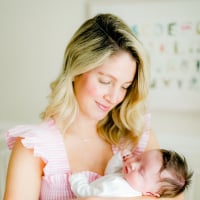 The AMA will begin on August 9th at 9 am ET through August 13th at 11:59 PM ET. The thread will open when the AMA begins.
Ask Dr. Natalie Barnett Anything about getting your baby to sleep through the night.
Dr. Natalie Barnett serves as Director of Clinical Research at Nanit. In her role, Natalie oversees collaborations with researchers at hospitals and universities around the world which use the Nanit camera to better understand pediatric sleep. Prior to joining Nanit, Natalie was Assistant Professor in the Neurogenetics Unit at NYU and holds a Postgraduate Certificate in Pediatric Sleep Science from the University of Western Australia and a Ph.D. in Genetics from the University of New England in Australia. She is able to apply her scientific knowledge to everyday sleep problems and enjoys nothing more than giving families the gift of sleep.
** Bookmark this thread and receive a notification when the AMA begins.**
Click the bookmark icon on the right-hand side of the discussion.
Tagged:
Comments
This thread has been closed. We hope you'll join the conversation by posting to an open thread or starting a new one.