"Ask Me Anything" about breastfeeding with RN and Lactation Consultant Erica Campbell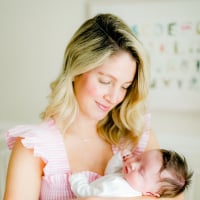 Join Erica for Tips & tricks for nursing mamas & mamas-to-be on Friday, August 27th through Monday, Aug 30 at 11:59 pm. Ask Erica Anything about Breastfeeding!
Erica is a former Registered Nurse and current Lactation Consultant (IBCLC), she's also a mama of two! From her professional and personal experience, she had a revelation about education for breastfeeding mothers.
While working on the floor as a Mother/Baby RN, she noticed mothers struggling with the first few days of breastfeeding. They didn't know what to expect or how to overcome those beginner obstacles. The raw emotions from childbirth combined with the feelings of guilt were enough for her to see that something must be done to help these women achieve their goals.
The Milk Manual is a resource for all parents enduring their breastfeeding journey. Whether this is your very first experience or you're in the final days of breastfeeding, it's Erica's goal to help make your journey as smooth and beautiful as possible.
Erica says no matter what your goal may be, The Milk Manual is a judgment-free zone that is here to educate and support you along the way! We are thrilled to have Erica on the Nanit Community answering your breastfeeding questions!
** Bookmark this thread and receive a notification when the AMA begins.**
Click the bookmark icon on the right-hand side of the discussion.
Erica will do her best to answer all questions.
Tagged:
Comments
This thread has been closed. We hope you'll join the conversation by posting to an open thread or starting a new one.