💬 "Ask Me Anything" about Daylight Savings: Spring forward and your baby's sleep with Dr. Barnett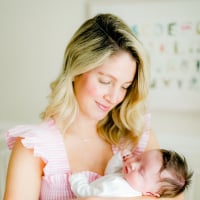 Get ready for daylight savings on March 13th. Ask Dr. Natalie Barnett Anything about preparing your babies and toddlers for daylight savings!
How does an Ask Me Anything work?
Post your question on this thread between March 7th and 8th for Dr. Natalie Barnett to answer. Dr. Barnett will answer be answering the questions directly on the thread and you can follow up to see you responses.
We encourage you to "bookmark" the thread so you are alerted when there is new content on this specific thread!
Anonymous questions:
Do you have a question but want to ask it anonymously? You can DM @NanitMackenzie or @NanitJessica and we will post on your behalf!
*Dr. Barnett will attempt to answer as many questions as possible, but due to volume she may not be able to answer each question individually.
Tagged:
Comments
This thread has been closed. We hope you'll join the conversation by posting to an open thread or starting a new one.