"Ask Me Anything" about Feeding & Sleep with Dr. Monica Ordway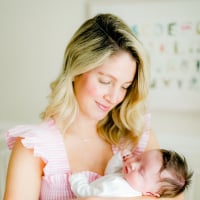 Ask Dr. Monica Ordway, PhD, APRN, PNP-BC, Anything about Feeding & Sleep today through Wednesday, December 22nd.
After receiving her bachelor's in physics from Fairfield University, Dr. Ordway earned her certificate in nursing and MSN from Yale School of Nursing. Dr. Ordway worked as a pediatric nurse practitioner and lactation consultant at an urban practice for many years before returning to Yale to obtain her PhD. Her dissertation research examined the effects of the Minding the Baby® home visiting intervention on child behaviors 1-3 years after families completed the research program. She subsequently completed a postdoctoral fellowship under joint mentorship from YSN and the Yale School of Medicine (Psychiatry) from 2011-2013. Her postdoctoral fellowship involved working on adapting the Mothering from the Inside Out (MIO) intervention for implementation into a community mental health clinic.
Post your questions below!
*Dr. Ordway will attempt to answer as many questions as possible, but due to volume, she may not be able to answer each question individually. Her responses will be shared throughout the day on Monday, December 27th.
Tagged:
Comments
This thread has been closed. We hope you'll join the conversation by posting to an open thread or starting a new one.