💬"Ask Me Anything" about Daylight Savings: Fall Back And Your Baby's Sleep with Dr. Natalie Barnett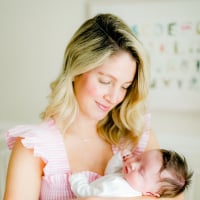 The AMA will begin on November 4th and end on November 5th at 11:59 PM ET.
Ask Dr. Natalie Barnett Anything about preparing your babies and toddlers to fall back.
Here are a few tips to keep in mind:
Identify the type of child you have. How do they adapt when they miss a nap or bedtime is too late? If they turn into a hot mess when sleep is off start 5 days before the time change. If they are very adaptable and don't seem to skip a beat on an off-sleep day start 2 days before.
Start the shift slowly. 5 days before daylight savings, start shifting your child's nap & bedtime schedule later by 10 minutes every day. Adjust mealtime as well!
Adopt the new clock immediately. As soon as the clock officially falls back we need to work off the new clock right away. Don't make the mistake of calculating what bedtime or nap time would have been yesterday.
Use black-out shades. As the light creeps in earlier in the morning this is an important step to help minimize early rising.
Set awake for the day no earlier than 6:30 AM. Wait to get your baby until 6:30 AM the day of the time change and each day after
** Bookmark this thread and receive a notification when the AMA begins.**
Click the bookmark icon on the right-hand side of the discussion.
Tagged:
Comments
This thread has been closed. We hope you'll join the conversation by posting to an open thread or starting a new one.